From: Asamblea Ciclista Valladolid
Date: Tue, 31 Aug 2004

Subject: Solidarity with NY bikers
Dear colleagues,
Here in Spain, Europe we followed with interest the police affair against critical mass in New York. Every media put pictures about it. I organize critical mass in my city and I am scandalized with the behavior of NY Cops.
This Friday we have our critical mass. This time it will be devoted to all of you.
Yours sincerely,
David Escudero
From: saigon saigon
Date: Mon, 30 Aug 2004
Subject: Critical mass torino ... solidarietà ai 256 arestati a NYC
C R I T I C A L
M A S S
Giovedì 2 settembre ore 21
Piazza del Municipio
solidarietà ai 256 massacritici arrestati durante la manifestazine contro Bush a New York City !!
Stop the oil war !
From: helen hubbard-davis
Date: Thu, 17 Apr 2003

Subject: [dc-critmass-list] bikes not bombs flyer
for those of us who just have printers and not xerox machines, this is five to a page -- just cut and distribute!

bike on
Attachment: "Ride against the war every Monday and Friday" (HTML Format)
From: Randy Kay and Beatrice Ekwa Ekoko
Date: Sat, 22 Mar 2003

Subject: Hamilton Ontario, Canada Critical Mass
pEDAL for pEACE (and ecology)
CRITICAL MASS BIKE RIDE
5:30 pm
fRIDAY mARCH 28, 2003
meet at Hess and George (in Hess Village)
hAMILTON, oN, C.
Bikes! not Bombs.
bbbbbb
Skateboards, inline skaters welcome too!
KICK THE OIL HABIT!
Ride as though the revolution has occurred: Cycling is Sexy!
(*Ride takes about 40 minutes as we weave en masse throught the downtown streets celebrating human powered movement- bring a friend or three, bring signs, noise-makers, costumes, pets, a peaceful disposition, love in your heart, almond butter sandwiches, overdue library books, whatever you want, BUT COME!)
From: redsara
Date: Mon, 10 Mar 2003

Subject: [Velolove] BIKES NOT BOMBS!!!
BIKES NOT BOMBS!!!
joins
the GLOBAL DAY OF ACTION on March 15 to END WAR USA (STOP WAR ON IRAQ)
This Saturday, March 15, NOON at the Vancouver Public Library
____________________________________________________
BIKES NOT BOMBS IS YOU: everyone in Vancouver who rides a bicycle and believes in peace. We have participated in two awesome events so far:
feb 15th International Peace Rally
and
Artists Against War's internationally publicized Naked Peace Symbol at English Bay
____________________________________________________
RIDE ALL to BIKES NOT BOMBS VANCOUVER: we are a part of the solution to END OILY WAR!!! Come out and join us, bring your bike, and bring all of your friends.
This rally has been organized by StopWar.ca, and coincides with an emergency convergence on the White House. Be a part of the largest mobilization of people in history!!!
In solidarity, peace, and riding no hands!!!
redsara
From: Carmen (by way of Steve Kisby)
Date: Wed, 05 Mar 2003

Subject: [Velolove] Naked international coverage
To: Carmen Mills
From: blfenton
Date: Mon, 24 Feb 2003 07:04:51 -0800
Subject: international coverage


Hi Carmen,

I'm not sure if you were there, but I thought you might be interested in this short article and photo that a friend just sent me from Germany.

(loose translation: Demonstrators took to a field completely naked in the Canadian city of Vancouver in the name of peace. The passionate cyclists met at Sunset Beach and created a huge peace symbol under the motto "Bikes not Bombs".)

Bonnie

Nacktes Friedenssymbol in Vancouver

Vancouver - Völlig nackt gingen Demonstranten im kanadischen Vancouver für den Frieden auf den Rasen. Die passionierten Radfahrer trafen sich am Sunset Beach und bildeten unter dem Motto "Bikes not Bombs - Fahrräder statt Bomben" ein riesiges Peace-Zeichen.

24.02.2003

http://www.monkeywrenchcafe.org/cm/pic/jpg/vcbc.jpg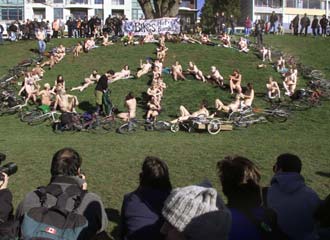 From: Dirk Trenholm
Date: Tue, 25 Feb 2003

Subject: Moscow, Idaho Critical Mass
Hi Jym,
Thought you might like to know (if you haven't heard already) that we have been having 'Critical Mass' rides, with attendance around fifty, for three weeks running now in Moscow Idaho.
The specs: meeting, 4:00 PM (pacific) at east city park proceeding for about an hour ride all around town, then ending at Freedom Square where The Palouse Peace Coalition has been meeting every Friday afternoon since November 2001. This weekend we will join the PPC in the Mardi Gras parade and I would like to see a hundred bikes participating.
-PEACE
From: Damon Rao
Date: Fri, 11 Apr 2003

Subject: Critical Mass Melbourne, Pedal for Peace Ride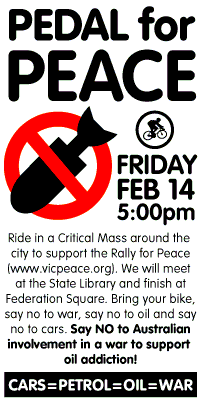 Critical Mass Melbourne, Pedal for Peace Ride
February 14th, 2003
In Melbourne's largest anti-war rally ever (even larger than the Vietnam War moratorium marches), cyclists organised a parallel route, inspired by the London Halloween Pedal for Peace in 2002. Instead of walking down Swanston St, the ride pedalled in adjacent streets to support the rally to Federation Square.