15-March-2003 ("M15")
Boston: Rallies for Peace along Mass. Ave.
·· Vancouver: BIKES NOT BOMBS!!!
·· SF: CALLING ALL BICYCLISTS: Bike Against War!
Boston Indymedia's M15 Feature:
RESISTANCE TO WAR WITH IRAQ
Mar 15 2003
Rallies for Peace Held Along Mass. Ave., from Dorchester to Lexington

Peace rallies were held at fourteen major intersections along Massachusetts Avenue -- from Dorchester to Lexington -- from 10:00 am to noon on March 15. The one I attended at Porter Square had approximately five hundred people strung out along seven blocks. We were passed by two hundred bikers with Bikes Not Bombs and a three hundred person student peace march. ...
[ full story | summary of 3/14 civil disobedience ]

Boston Globe - "Bikes Not Bombs" makes 35-mile round-trip from Boston to Lexington
14-March-2003
Milan: "NO WAR" Critical Mass Route (Babelfished into English)
11-March-2003
Norfolk and Suffolk, UK: Anti-War Cyclists Enter American Airbase
6-March-2003

Oregon Daily Emerald - Riders with a cause
25-February-2003
Gainesville, Florida: March or Bike for Peace
21-February-2003
Moscow, Idaho: Critical Mass for Three Weeks Running
Moscow, Idaho: 3rd Week of "No Blood for Oil" Community Bike Rides
18-February-2003
NYC: Antiwar Critical Mass
16-February-2003
SF: Photos from the Tinkers/PedalExpress Sounds System
15-February-2003 ("F15")
Newcastle, Australia: "Don't go to war for my oil."
·· Wien (Vienna): Less Cars/Less Oil/Less War
·· London: Wheels Against War!, Wheels Against War! Flyer
·· London: Pedal for Peace: We Had a HUGE Rally
·· Croydon, UK: Pedal Power at February -- and September -- Anti-War Rallies
·· Barcelona: ·· Bloc Ciclista Contra La Guerra, Bloc Ciclista Graphics ·· NYC: Bike Bloc Recap ·· Atlanta: Bike Bloc Joins in Caravan ·· Minneapolis: Peace and Pedals ·· Vancouver: Bikes Not Bombs Announcement, at the March ·· Portland: Peace March and Critical Mass Ride
14-February-2003
Melbourne: Pedal for Peace at Largest Anti-War Rally Ever
10-February-2003

Sun.Star Manila - Youngsters Launch "Bike for Peace"
7-February-2003
Moscow, Idaho: Critical Mass Community Bike Ride Against War for Oil
31-January-2003
Vancouver: Bikes Not Bombs Critical Mass
·· LA: Bike for Peace
26-January-2003
Edinburgh: Critical Mass Against The War
18-January-2003
Portland: Critical Mass During Rally
Portland Indymedia's J18 Feature: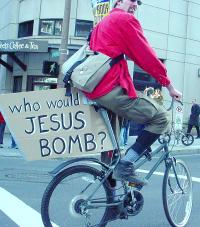 Critical Mass ride delights marchers
From the open publishing newswire: A spirited group of bikers splintered off from the radical feeder march to ride a critical mass ride through downtown Portland urging everyone to reduce the dependency on oil and the excuse for war.
The group gathered in the north park blocks and rode along with the feeder march before splitting off in from of Pioneer Square. From there, we rode around downtown to the delight of marchers who supported our messages of "Bikes not Bombs" and "No blood for oil". We also were able to recruit other cyclists who were taking part in the march. The ride had no cop presence and was trouble free, lasting about an hour and a half.
[ Two wheels good, four wheels bad ]
January 18 Peace Protest Critical Mass Ride
A group of Critical Mass riders gathered with the Radical Feeder March in the North Park blocks, and joined the Radical Feeder March to Pioneer Courthouse Square, at which point they split off and spent the next three hours Massing throughout downtown on the fringes of the main rally and march. Signs carried by the Mass included 'Honk if You're Part of the Problem', Who Would Jesus Bomb' and 'No War For Oil -- Ride a Bike -- Lose the SUV'. The mass varied in numbers throughout the afternoon from about 10 to 50 riders, and attracted many cyclists bound for the main rally.
[ Read More... ]
J18 Critical Mass Ride Analysis
Today's ride, despite its somewhat limited size, deserves analysis since it differed in significant ways from regular rides.
As we congregated with the Radical Feeder March for the war protest, it became apparent that it would be difficult to extract riders from the 1,500+ marchers. Establishing a meeting point which is shared with a march has it's limitations. People standing around without bikes effectively serve as "control rods" preventing critical mass from occurring.
We followed along with the march for a few blocks, bikes filtering to the front and riding circles at the head. When we arrived at Yamhill, where the march turned left, we did a bike lift in order to squeeze any stragglers from the crowd and began our ride in earnest. The route which we took for the next three hours circled and weaved around the perimeter of the 20,000+ permitted march occasionally peeling new riders off or losing riders to the crowd. While the number of riders never reached more than about 50 at any given time, I'd guess that close to 150 different people participated at some point.
[ Highlights ]
14-December-2002
Sheffield, U.K.: Stop Esso, Stop the War
31-October-2002
Across the U.K.: RAW! (Riding Against War)
·· Sheffield: Bikes Not Bombs Early Morning Action
·· Leeds, U.K.: Leeds Pedal for Peace
·· London: Pedal for Peace, Halowe'en Ride Against War

Guardian U.K. - Leeds: Pedal for Peace
17-October-2002
Atlanta: Bush Protest: "No Blood for Oil," "Bikes Not Bombs"
21-March-2002

Chico News & Review - Calendar Item: Bike for Peace
18-November-2001
London: Bikes Not Bombs, Bike: No Blood for Oil
27-October-2001
Sheffield, U.K.: Anti-War Demo
·· Sheffield, U.K.: "... trailing a solar powered generator and mobile DJ ..."
26-October-2001
SF: Bicycling: A Quiet Statement Against Oil Wars (1-up PDF, 2 pages, 92K)